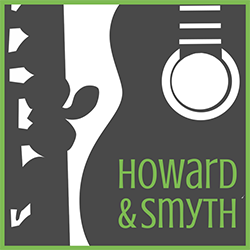 The Howard & Smyth Duo are Thom Howard on guitar/mandolin and Katie Smyth on flute. In addition to all your favorite wedding standards the duo performs an engaging mix of specialty pieces drawn from a broad range of styles, adding plenty of repertoire to match your unique plans for your unique wedding. And your guests of all ages at dinners and receptions will enjoy hearing everything from pop tunes to Latin, classics to oldies, familiar favorites to new, intriguing sounds. Add their voices to the mix and there's very little they can't do to entertain you, your families and friends.
Katie Smyth currently holds the principal flute position in the Southside Philharmonic Orchestra–an emerging chamber orchestra in Mid-Missouri and keeps busy with her growing flute studio. Katie also performed several seasons with the Missouri Symphony as rotating Assistant Principal Flute and Piccolo, during which time she earned a Masters in Flute Performance at the University of Missouri-Columbia.
Thom Howard brings 30 years of solo guitar and various group performance experience, including hundreds of wedding ceremonies, receptions and rehearsal dinners. He is a state fingerstyle guitar champion, taught guitar and strings at Central Methodist University and guitar at UMC. Thom's solo CD "Sometimes a Guitar is Just a Guitar" has sold around the world through CDBaby and can also be heard through several major streaming services.
Address
Street: 910 Westover St.
Postcode: 65203
City: Columbia
State: Missouri
Country: United States